鹤鸣山又名鹄鸣山,位于四川省成都市大邑县鹤鸣乡,距成都市七十二公里,与道教另一名山青城山相连(两地相距四十多公里),其地状如仙鹤。鹤鸣山名称的由来有三种说法:一是山形似鹤,二是山栖仙鹤,三是山藏石鹤。世传石鹤鸣,有仙人诞生,如周之马成子,汉之张天师,明之三丰祖师皆如是。
He Ming Mountain (鹤鸣山), where Taoism originated, is about 72 kilometers from downtown Chengdu and 40 kilometers from Qing Cheng Mountain (青城山). Also known as Hu Ming Mountain (鹄鸣山), it is situated in Dai Yi County (大邑县) in Sichuan Province. It joins Qing Cheng Mountain to create a shape like a crane with its wings unfolded. "He" means crane and "Ming" means the call of a bird. Its name came from: (1) the shape of the mountain, (2) a legend that it was a habitat for fairy cranes, and (3) a legend about a hidden stone crane - when it made a call, deities such as Ma Cheng Zi (马成子) of the Zhou Dynasty, Zhang Dao Ling (张道陵) of Han and Zhang San Feng (张三丰) of Ming would be born.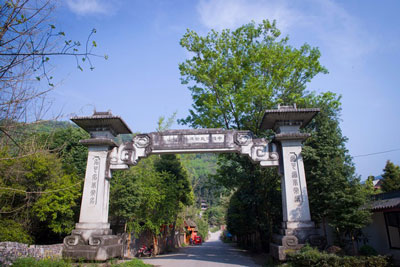 1426年,在迎仙阁后创建面阔三间,单檐歇山式祠堂,祀三丰祖师,世称张神仙祠。祖师在《三丰全集》中阐明了自己隐迹山林,不慕世荣的思想:"遁之为用妙也哉!天子不得臣,诸侯不友(指蜀献王朱椿),不谒名公,不逢权贵,不以长生之术分人主励精图治之心,自求自用,自得自娱。望之若白云之在天而舒卷无定也,即之如明月之印水而动荡难收也"。
In 1426, to commemorate Master Zhang San Feng, a big ancestral hall was added to the posterior of Ying Xian reception hall, with single eaves and a gable roof.It was named the Deity Zhang Memorial Temple (张神仙祠). In his own writings San Feng Quan Ji (三丰全集), Master Zhang expressed clearly his own thinking about the retreat from vanity. In his life, he would rather hide away from societyto cultivate his own virtues; living as a hermit and practicing introspection would bring him great satisfaction. He avoided the Emperor and other influential people, for a country's rulers should always focus on their country and their people.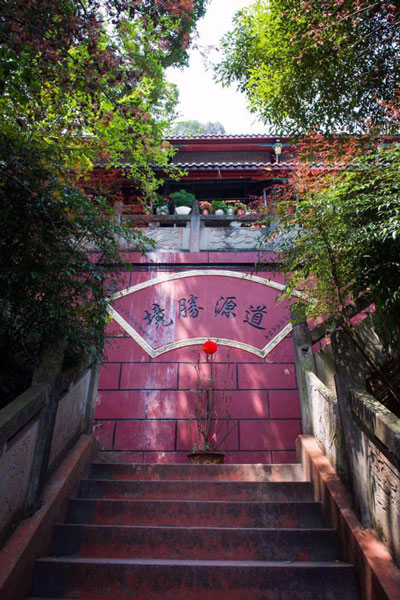 鹤鸣山是道教的发源地,史籍有明确的记载。《三国志·张鲁传》云:"张鲁字公祺,沛国丰人也。初祖父陵,顺帝时客于蜀,学道鹤鸣山中造作符书,以惑百姓,受其道者,辄出五斗米。"《华阳国志》、《魏书·释老志》也有此记载。葛洪仙师在《神仙传》中写道:"初,天师值中国纷乱,在位者多危,退耕于余杭,又汉政陵迟,赋敛无度,难以自安,虽聚徒授教,而文道凋丧,不足以拯危佐世。陵年五十,方退身修道,十年之间已成道矣。闻蜀民朴素,可教化,且多名山,乃将弟子入蜀,于鹤鸣山隐居,既遇老君,遂于隐居之所,备药物,依法修炼,三年丹成,未敢服饵。谓弟子曰:神丹已成,若服之当成真人,然未有大功于世,须为国家除害兴利,以济民庶,然后服丹,即轻举。臣事三境,庶无愧焉……乃行三步九迹,交干履斗,随罡所指,以摄精邪,战六天魔鬼,夺二十四治,改为福庭,名之化宇……于是幽冥异域,人鬼殊途"。
He Ming Mountain is the home of Taoism. In San Guo Zhi《三国志》, it was said that Zhang Dao Ling (张道陵) was the one who practiced Taoism and talismans in He Ming Mountain. Celestial Master Ge Hong (葛洪先师) in his literature also mentioned that Zhang Dao Ling preferred to retreat into farming as the country descended into chaos. As the government became more corrupt, Zhang found that he could do nothing to revert the situation. Consequently, at the age of fifty, he chose to live in seclusion and practiced Taoism for the next ten years. Later, when he heard that Sichuan had a good environment with famous mountains and simple-minded people, he led his followers to settle in He Ming Mountain. There, he met the deity Tai Shang Lao Jun (太上老君), the "Grand Pure One" in Taoism, who bestowed upon him the title of Celestial Master and gave him secret scriptures about Taoism, talismans and other skills. Zhang Dao Ling, then started to practice internal alchemy, fought against demons and founded an orderly structure for Taoism known as the way of the Five Pecks of Rice (五斗米教).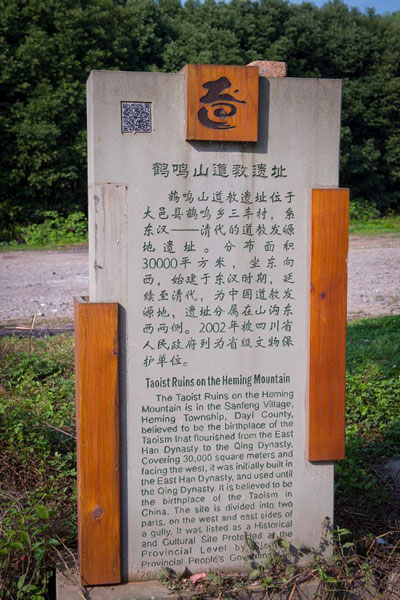 明嘉靖年间,是鹤鸣山发展史上辉煌时期之一。据《修鹤鸣观醮台公署记》作者佥都御史张公景贤记载,嘉靖二十五年(1546年),世宗帝"分遣使臣,于治世元岳等五处(安徽齐云山、江苏三茅山、河南王屋山、湖北太和山即武当山、四川鹤鸣山),会地方守臣,以八月十日万寿节,各诣其所,建祈天永命大醮,集庆安邦,而鹤鸣其一焉。唯时两台及方面重臣,暨诸郡邑守宰,莫不闲在,以供厥事。逮今凡五举矣"。与其他四座洞天福地相比,鹤鸣山僻处一隅,且在山谷穷处。世宗帝前后五次遣使在鹤鸣山恭建万寿大醮,使玉宫蓬宇,晦而复彰,坠复振者,实乃山灵神佑也。使臣余荫先生在《奉使鹤鸣山恭建万寿大醮礼成敬赋小诗一章》中赞道:"君王恭默事元穹,遣使名山礼意隆。正欲济民怀葛世,果然时叶夏商风。圣人明德通天府,上帝垂恩赐汉宫。石鹤长鸣厘祝已,群黎林谷尽呼嵩。"因祈祷有功,沈皇后于1548年遣大真人彭瑞衡施药物、赐经卷予鹤鸣山,以示褒奖。
He Ming Mountain Taoist Temple reached its height in historical development during the reign of Emperor Jia Jing (明嘉靖)(1521 AD-1567 AD). According to some old literature, it was recorded that in 1546, the Emperor selected He Ming Mountain as the one of the five temples nationwide (the others were Qi Yun Mountain of An Hui 安徽齐云山, San Mao Shan of Jiang Su 江苏三茅山, Wang Wu Shan of He Nan 河南王屋山, Wu Dang Mountain of Hu Bei 湖北武当山) to uphold grand Taoist ceremonies for longevity blessings (祈天永命大醮). Although He Ming Mountain was located in a remote area, Emperor Jia Jing had selected this Temple five times for holding solemn ceremonies known as Wan Shou Da Jiao (万寿大醮). It was believed that under the blissful blessing of the He Ming Mountain deity, the Temple regained much of its glamour and glory. In 1548, as Empress Shen believed that her wishes came true because of the Temple's sincere offerings to heaven; she then appointed Master Peng Rui Heng (彭瑞衡大真人) to send off medicines and scriptures as a token of praise and honour to the Temple.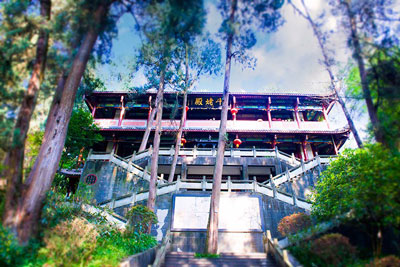 明太祖起兵时,得到门中铁冠道人张中、宣猷辅化真人周颠仙等异人之助,所以对道门中人很是器重。洪武十七年(1384年),太祖下诏征三丰祖师入朝,不赴;遂下诏命其弟子沈万三、丘玄清征请祖师,未获;到洪武二十四年,又命第四十三代天师张宇初真人求访,不获。不修边幅、仙踪不定的三丰祖师给求访者增添了不少"麻烦"。
When Emperor Tai Zu of Ming Dynasty (明太祖) started the uprising, he got assistance from some Taoist priests such as Zhang Zhong (铁冠道人张中) and Zhou Dian Xian (宣猷辅化真人周颠仙). Since then, the Emperor was indebted to Taoists and paid high respect to Taoism. In 1384, the Emperor sent orders to summon Zhang San Feng (张三丰) three times to the mperial court, but Zhang refused. He then demanded Shen Wan San (沈万三) and Qiu Xuan Qing (邱玄清), who were two of the most influential pillars of the community, to personally invite Zhang for a meeting. Zhang again refused. In 1391, Tai Zu sent the Taoist high priest, Celestial Master Zhang Yu Chu (张宇初真人), to visit Zhang again. Still he declined. Throughout the years, Zhang San Feng's whereabouts were unknown, and he gave his visitors a runaround.
明末清初,鹤鸣山道观与蜀中其他许多宫观一样,正一派势力下降,取而代之的是兴起的全真教,特别是武当山陈清觉仙师入川整顿教务后,蜀中道教多是全真龙门派丹台碧洞宗所属。鹤鸣山也不例外,至今犹是承其戒坛。
In late Ming to early Qing Dynasty, Zheng Yi (正一) School of Taoism that was founded by Master Zhang Dao Ling started to decline and was replaced by Quan Zhen (全真) School. When Master Chen Qing Jue (陈清觉仙师) of Wu Dan Mountain (武当山) came into Sichuan, he brought a lot of reforms; subsequently, most of the Taoist temples converted to the Dan Tai Bi Dong Sect (丹台碧洞) of the Long Men Denomination (龙门派) of Quan Zhen. He Ming Mountain Temple was no exception and it still follows the rules of Quan Zhen till today.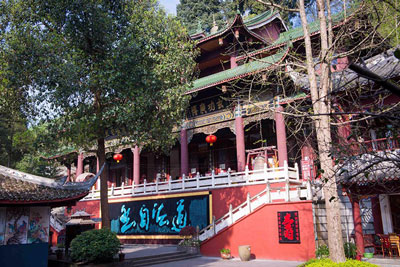 鹤鸣山道观始称不知起于何时。据明嘉靖朝都察院佥都御史张公景贤在《修鹤鸣观醮台公署记》言:"观之创不可考,然隋唐之际,尝有旧址,而宋开宝、元至正间皆敕赐重建。"北宋皇祐四年夏秋之际,文同先生摄令大邑,曾有文曰:"大邑鹤鸣观,所谓张天师鹤鸣化也。其东北绝顶有上清宫。"并附诗一首:"天气阴阳别作寒,夕阳林下动归鞍。忽闻人报后山雪,更上上清宫上看。"上清宫就是乡人们俗称的老君殿,建在祖天师感太上老君降临之天柱峰,也就是状如鹤头之头顶部分。专为病者祈祷的"三官祠",建在东西两涧合流之处。道教认为天官赐福,地官赦罪,水官解厄,其信仰来源很早,可追溯到周秦以来的鬼神信仰。祖天师通过改造,演化成"书病人姓名,述其谢罪之意,作三通,其一上之天,其一埋之地,其一沉于水,谓之三官手书"。
The construction of the He Ming Mountain Taoist Temple was widely attributed to Master Zhang Dao Ling. The exact construction time of this Taoist Temple is unknown. According to some historical records from the Ming Dynasty, it was stated that the temple could be traced back to the Sui Dynasty (581 AD – 618 AD). During the Song Dynasty (960 AD – 1279 AD) and Yuan Dynasty (1271 AD – 1368 AD), there were records of imperial orders for repairs and reconstruction of the Temple. On the mountain's northeastern peak stood the Shang Qing Temple (上清宫). Shang Qing Temple was also named as Lao Jun Temple (老君殿), which took a shape like the crown of a crane. It was built by Master Zhang as a gratitude to Tai Shang Lao Jun for his revelation on the Tian Zhu Peak (天柱峰). During that time, there was also a temple which housed three deities known as San Guan Ci (三官祠) for Tian Guan (天官) (Deity of Heaven), Di Guan (地官) (Deity of Earth) and Shui Guan (水官) (Deity of Water). They represented blessings, absolution and relief from disasters. The belief of San Guan had a long history, and could be traced back to Zhou Qin Period (周秦时代) (770 B.C. – 206 B.C.) In treating patients, Master Zhang would prepare three similar sets of San Guan documents (三官手书), in which would contain the name of the sick as well as the patient's apologies for offences that were committed. The first set of documents would then be burnt; the second, buried; and the third, sunk into water.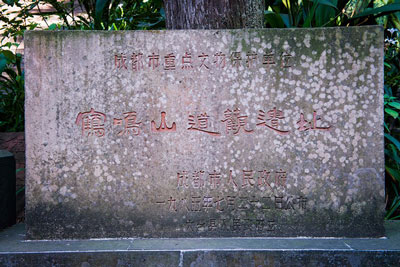 在"文革"以前的鹤鸣山道观主要建筑中:紫阳殿纪念汉代紫阳真人周义山;天师殿纪念祖天师张道陵;文昌宫纪念文昌帝君张亚子;还有延祥观,建在天柱峰后,大坪山麓,其地为鹤腰处,不知始于何时。历史上记载最清楚的建筑莫过于迎仙阁和张神仙祠了。
Before the Cultural Revolution and the destruction of many religious structures, the main buildings in He Ming Mountain included the Zi Yang Temple (紫阳殿) for Deity Zhou Yi Shan (周义山真人) from the Han Dynasty (汉代), Tian Shi Temple (天师殿) for Celestial Master Zhang Dao Ling, Wen Chang Temple (文昌宫) for Deity Zhang Ya Zi (张亚子), and also Yan Xiang Guan (延祥观) built on the Peak. The most clearly recorded historical buildings were Ying Xian Ge (迎仙阁) and Zhang Shen Xian Temple (张神仙祠), while other structures built on the mountain slope were unclear.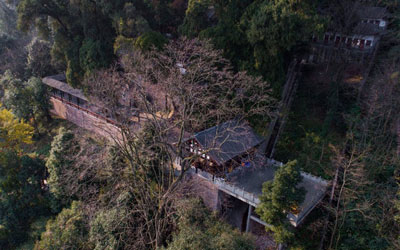 大清三代以后,国是日非,鹤鸣山成为"丹台隐隐犹存,仍羽人之芳躅,留不死之福庭"的清幽避暑胜地。至"文革"前,仍保存着较好的楼、亭、牌、坊、坛、台建筑,祭祀宫观有三官祠、文昌宫、天师殿、上清宫、延祥观、迎仙阁、神仙祠、紫阳殿、玉皇楼等众多的建筑群。可惜毁于"左"倾思想及后来的"文革"。至1987年开放道场活动以来,随着国家政治经济的发展,现今的鹤鸣山道观已恢复了迎仙阁、斗姆殿、慈航殿、五祖殿、三圣宫、天师殿、玉皇殿、清心茶舍、双鹤楼、综合楼、办公楼、乾道院、坤道院等一大批建筑。
After the Golden Age of Qing Dynasty, the country started to weaken. This also had an effect on accelerating the decline of Taoism, and He Ming Mountain Taoist Temple ended up becoming more of a summer resort. Before the Cultural Revolution in 1966, He Ming Mountain still had some well-maintained old architectural structures such as pavilions, platforms, altars, roofed and roofless gates. At that time, there were still a number of temples, namely San Guan Temple (三官祠), Wen Chang Temple (文昌宫), Tian Shi Temple, Shang Qing Temple, Yan Xiang Temple, Ying Xian Reception Hall, Shen Xian Temple, Zi Yang Temple and Yu Huang Temple. However, most of these structures were destroyed during the 1966 Revolution. Since 1987, as China has restarted its reform and opening-up of the economic markets, He Ming Mountain Taoist Temple has also resumed its reconstruction. Today, one can find a cluster of buildings which include Ying Xian Reception Hall, Dou Mu Temple (斗姆殿), Ci Hang Temple (慈航殿), Wu Zu Temple (五祖殿), San Sheng Temple (三圣宫), Tian Shi Temple, Yu Huang Temple (玉皇殿), Qing Xin Tea Room (清心茶园), Shuang He Dormitory (双鹤楼), Qian Dao Dormitory (乾道楼), Kun Dao Dormitory (坤道楼), administrative buildings and offices.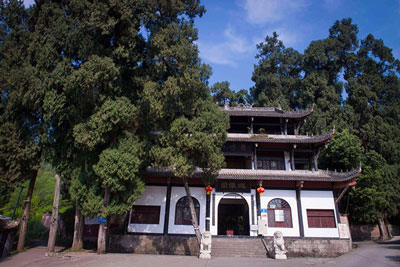 祖天师学道鹤鸣山,创立正一盟威之道,营构二十四治,鹤鸣山为上三治,史称"鹤鸣神山太上治"。"治"者,不仅是管理的意思,也是有秩序地安定身心内外的方法的意思。治所一般有静庐,有法坛,有戒鬼台。南北朝时改治为馆,北周后称观,隋唐后宫观并称。
During his practice in He Ming Mountain, Master Zhang founded the Zheng Yi Meng Wei Dao (正一盟威道) – an authority of an alliance and organized twenty-four zhi (治), which means parishes. He Ming Mountain was listed in the upper three zhi. A zhi was more than a management unit, it was also a place where people could find internal peace and external harmony in an orderly manner. In a zhi, one could find quiet rooms (静庐), ceremonial altar (法坛) and a place where demons were summoned to follow Tao (戒鬼台).The name zhi slowly evolved to become the word guan (观), which means temple, and was later used in the Sui and Tang Dynasties. Members of this order of Taoism practice seclusion and lead an ascetic life with the goal of reaching enlightenment.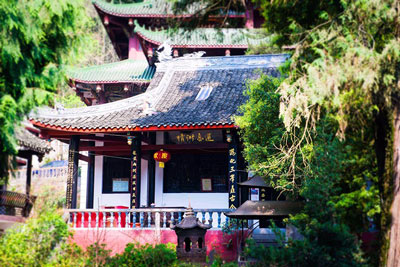 成祖夺位后,于永乐五年(1406年)选派三丰祖师友人、礼部尚书、户科给事胡滢先生赍香币往访,"遍历荒徼,积数年不遇"。后胡钦差闻祖师在鹤鸣山天谷洞中修行,遂来山虔请。在《访张三丰》诗中写道:"交情久矣念离群,独向山中礼白云。龙送雨来留客住,鹿衔花至与僧分。疏星出竹昏时见,流水明渠静夜闻。却忆故人如此隐,题诗谁是鲍参军。"三丰祖师不愿再闻世事,隐修不出,以至于胡钦差于八十九岁时客逝于鹤鸣山,谥忠安公,现墓碑犹存。"道德崇高,超乎万有,体合自然,神妙莫测"的神仙风范,使永乐帝更加强了"竭思亲承仪范"和"至诚愿见之心",于是改变政策,于1417年春,再遣龙虎山道士吴伯理,钦奉太宗文皇帝玉音,赍香暨御书入蜀之鹤鸣山天谷洞,结坛诵经,祈告山灵:"迎请真仙张三丰先生。所冀慧然降临,以副拳拳仰慕之怀。"1420年秋,"以仙人好楼居",乃于"延祥观后四十余步,因其地位清高,草木清华之处,建杰阁而傍以迎仙"。传说吴伯理仙师朝拜祈祷,感三丰祖师降临,自是喜不自胜,乞其赴京觐见。祖师曰:"自古天子未有成神仙者,汝还奏,惟求勤政爱民,为太平天子,天下受赐,幸甚。"言毕飘然而逝,复入天谷洞不出。后吴伯理仙师也客逝于鹤鸣山,葬于鹤鸣山迎仙阁右,今墓犹存。
When Emperor Cheng Zu of Ming Dynasty (明成祖) came to power, he knew that Master Zhang San Feng was an incomparable talent and wanted to recruit him. He sent out his chief officers in charge of public relations and human resources to search for Zhang in 1406. Despite years of searching, their effort was in vain. Later, an officer named Hu Ying (胡滢) heard that the Master was living in seclusion in Tian Gu Cave (天谷洞) located in He Ming Mountain. So, he went there to try his luck. Unfortunately, as Master Zhang was no longer interested in worldly matters, he continued to hide away from visitors. Hu Ying persisted and stayed on the mountain until he passed away at the age of eighty-nine; his gravestone is still there on He Ming Mountain. Hu's death further reinforced the Emperor's wish to see Master Zhang. In the spring of 1417, the Emperor sent Taoist Wu Bai Li (吴伯理) of Long Hu Mountain (龙虎山) an imperial decree ordering him to go visit Tian Gu Cave to seek out Zhang. This time, Taoist Wu organized solemn Taoist ceremonies and prayed to the deity of the mountain, hoping that he would have a chance to meet Master Zhang. In the autumn of 1420, Wu chose a nice place behind Yan Xiang Temple (延祥阁) and constructed a reception hall known as Jie Ge (杰阁) for the Master. According to legend, Wu's prayers touched the Master, who descended to meet him. However, when Wu begged him to go to Beijing to see the Emperor, Master Zhang refused and vanished into the cave again. The words he left for Wu were that "An emperor needed to be hardworking and love his people, for an emperor of peace would bring blessings to his country". Later, Taoist Wu passed away in He Ming Mountain and his tomb was located nearby Ying Xian Ge (迎仙阁).